Posted on April 13, 2013
Filed Under Tips & Tricks | Comments Off
MySpace is a "social networking" web site.There are more than 200 social networking web sites in existence, and their success can be largely attributed to the human need for connection with others. For many people, such websites provide a way to extend their real-world circles of friends and acquaintances, or to find other people with similar interests. Some people even use a social networking site to meet romantic partners, while for others it's away to escape the daily grind of their mundane lives — after all, almost anyone can be cool on MySpace.
At a fundamental level, social networking web sites are designed to mimic how people tend to make friends in real life — by meeting new people through existing friends and acquaintances.
When you first join MySpace, you create a profile where you can post pictures and provide information about yourself and your interests. You can even write a blog, which is an online journal where you share your thoughts and feelings.
Read more
Originally posted 2008-05-29 03:01:21.
Similar Posts:
Posted on March 10, 2014
Filed Under News | Comments Off
Looks like Paris Hilton's and Lindsay Lohan's MySpace account has been breached. Although the reports were not verified and no comments has been made by both celebs, the news is spreading all over the world wide web. Here is a quote from VW:
Want to see Paris Hilton's MySpace profile? How about Lindsay Lohan's? Don't worry about those pesky privacy settings. Thanks to "data portability," a faddish technology movement that the Valley has been buzzing about for months, you can see any profile you want on MySpace. Byron Ng, a Canadian computer technician with a knack for finding Web security holes, has discovered that Yahoo's integration with MySpace makes it easy to view photos for any profile.
I will not be surprised if this rumor is true because a lot of MySpace accounts has been breached before. I just hope MySpace will beef up their security system before people start migrating to other 'safer' social networking sites.
Originally posted 2008-06-05 19:19:19.
Similar Posts:
Posted on March 3, 2014
Filed Under Tips & Tricks | 1 Comment
It's quite difficult to lie to your friends saying that you haven't been opening your profile for weeks. This is because there is lable in your profile that shows when you are online and the date when you last logged in.
However, there is a code that you can use in order to hide your last login information on your profile. Copy and Past the following code below to your Headline section:
<font style="display:none;">
Tada!!! Now you can say to your friends that you haven't logged in for a long time….even if you just logged in yesterday! :p
Originally posted 2007-10-25 16:19:08.
Similar Posts:
Posted on February 24, 2014
Filed Under News | Comments Off
Looks like MySpace has really pissed off a lot of people lately. While browsing through Mashable, I saw THIS POST.
It seems that they were informed that January 30th is International Delete Your MySpace Account Day (which is only a few days away!). Cory Geller sent 'em a link to a blog post written by Simon Owens..he basically talks about how MySpace has really annoyed him.
Anyone who wants to celebrate day?
Originally posted 2008-01-24 05:53:57.
Similar Posts:
Posted on February 17, 2014
Filed Under MySpace Layouts & Codes | Comments Off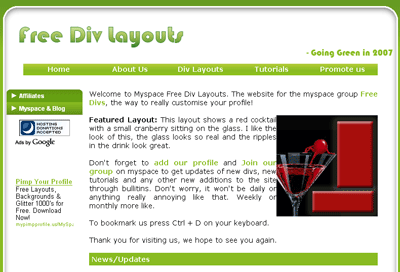 The group Free Divs has now launched a website.
Made and constantly updated by the founder (Nick) it is a great place to go if you are looking for a free MySpace div layout.
Free divs was started in 2005 by Nick who was just a bit bored and thought he would put his skills to some good use and make layouts for people.
After a while the group became too big to control on his own and so he requested help from some active members. In 2006 it peaked at over 10,000 members, but the moderation account was hacked, and the group deleted.
This could have been the end of the story. However, Nick relaunched the group, and is still trying hard to get his members back. This is when he launched the new Myspace Div Layouts website.
The website keeps all the group's div layouts in one place, which makes it even easier to get the codes and see the previews. Nick has also created a tutorial section which is growing steadily.
There should soon be a new layout for the website, which will be easier on the eyes and make it much easier to navigate.
Originally posted 2007-12-26 23:44:50.
Similar Posts:
Posted on February 10, 2014
Filed Under News | Comments Off
Now this is something that will definitely make an interesting read. A 16 year old girl from Staten Island could end up in jail because she sent friend request to there myspace profiles.
Shockingly since the girl is under aged, the name of the girl was given out to the public! Anyways, the girl's name is Melissa Fernio. I'm sure you're asking what 'exactly' that she has done wrong?
Well, apparently she has violated a Family Court that barred here from contacting a 13 year old woman and here two daughters and now Melissa Fernio is charged with second-degree criminal contempt.
More on the story:
Teen to face real charges for cyberspace behavior
MySpace 'Friend Request' Could Violate Protection Order
Originally posted 2008-02-15 04:12:56.
Similar Posts:
Posted on February 3, 2014
Filed Under News | Comments Off
Recently, two teenage girls has been arrested by Police on Tuesday for investigation of battery because of a videotaped beating of a mentally retarded girl which was posted on MySpace. Both of the girls are from the Newport harbor High School and are still minors – their names were not released to the public.
>> CLICK HERE TO READ THE REST OF THE STORY <<
Originally posted 2008-01-17 00:56:09.
Similar Posts:
Posted on January 27, 2014
Filed Under News | Comments Off
There have been reports by ComScore on MySpace falling short in demand to its rival Facebook, with the month of June being the best month for Facebook in terms of number of visitors. However MySpace declared its results for the month of July which showed for the first time 122 million visitors to its site breaking all records. But again ComScore has shown a footfall of 144 million for Facebook.
Read more
Originally posted 2008-09-11 05:51:02.
Similar Posts:
Posted on January 20, 2014
Filed Under News | Comments Off
The MySpace Developer Platform site offers outside developers tools to create new applications for MySpace members that will be available in March. MySpace joined other social-networking sites in opening the MySpace Web site, and the applications that developers create on the social-networking platform could reach into enterprises.
Finally! Withing several months of announcing their intent to launch a developer platform to allow developers all over the world to write applications specifically for MySpace.
Basically, The MySpace Developer Platform (MDP) provide a bunch of tools, methods and acts as a testing ground for developers to create applications.
For more info, please visit the following links
Originally posted 2008-02-06 07:53:02.
Similar Posts:
Posted on January 13, 2014
Filed Under News | Comments Off
MySpace might be one of the most popular social networking sites and great companions for the normal and healthy users but they are not as good with the burn victims. There was an incident when one of the burned victims' mothers posted few photographs of him in the profile of the support group created for him. Read more
Originally posted 2008-09-17 13:26:08.
Similar Posts:
Posted on January 5, 2014
Filed Under News | Comments Off
Looks like MySpace is taking one some serious action against spammers. MySpace has just recently released an official statement that they have won a lawsuit against Scott Richter (founder of Media Breakaway). Media Breakaway has been sending spam attacks on MySpace and just last Friday, MySpace was awarded $6 million by the American Arbitration Association.
For any spammers thinking they can get away, they are wrong and they will be hunted down and prosecuted to the fullest extent of the law.
Read More about this at Mashable.
Originally posted 2008-06-17 12:32:29.
Similar Posts: